Las personas que visitan Spring Mountains en invierno tienen la oportunidad de disfrutar de todo tipo de actividades recreativas, ¡empiece aquí para poder disfrutar su visita!
Lea todos los consejos que enumeramos más abajo y preste atención a nuestras noticias semanales para ver la lista de las actividades recreativas que estén cerradas:
Anticipamos que vendrá muchísima gente durante los fines de semana nevados y, por esa razón, las entradas a las rutas estatales 156 y 157 (Calles de Lee Canyon y Kyle Canyon) estarán limitadas. Se dará prioridad a las reservaciones para los restaurantes y el centro turístico Ski and Snow. Si usted visita esas zonas sin hacer una reserva, prepárese para largas demoras, estacionamiento limitado y pocos servicios.
¿Vé nieve en el horizonte? Las tormentas de invierno pueden hacer que los viajes sean peligrosos.
¡Siempre chequee el INFORME DEL CLIMA y las CONDICIONES DE LAS CARRETERAS (haga zoom en el área de Las Vegas y haga clic en las carreteras y calles) antes de salir!
Asegúrese de que su vehículo pueda funcionar en las calles con hielo y los estacionamientos llenos de nieve, como también usar cadenas o ruedas para nieves cuando se necesiten. Se recomienda usar 4WD o AWD para los estacionamientos con nieve parcialmente derretida, aún si las calles no tienen hielo ni nieve. No hay combustible en las montañas, empiece con el tanque lleno. Lleve mantas y una bolsa de piedras higiénicas para gatos en el baúl por las dudas si se le queda el auto.
Haga sus planes con tiempo descargando nuestro Mapa de Nieve para la temporada de invierno 2023-2024
El juego en la nieve en general es mejor durante los días de semana y a la mañana temprano los fines de semana.
Los embotellamientos y los espacios limitados para estacionar ocurren frecuentemente durante los fines de semana.
El senderismo con raqueta, tirarse en trineos, hacer muñecos de nieve o ángeles de nieve u observar la fauna, son algunas de las cosas que pueden hacer en el invierno. Los visitantes aventureros pueden hacer tubing, esquiar, o hacer snowboard en Lee Canyon Ski & Snowboard Resort en Lee Canyon. Para saber como divertirse tirándose en trineo, les presentamos a nuestro amigo Faceplant Chipmunk!
- Foxtail Group Picnic Area (cerrado, se abrirá para jugar en la nieve cuando haya suficiente nieve)
- Old Mill Picnic Area (cerrado, se abrirá para jugar en la nieve cuando haya suficiente nieve)
- Kyle Canyon Picnic Area
- Sawmill Picnic Area
- Lee Canyon Ski & Snowboard Resort
Seguridad para jugar en la nieve
Tirarse en trineo sólo en áreas abiertas sin árboles ni cercos
No se tire en trineo cerca de la calle
Tírese en trineo en la nieve de, por lo menos, 12 pulgadas de profundidad
Considere ponerse un casco
Siempre tírese en trineo con los pies hacia adelante
No haga rampas
No deje trineos rotos u otra basura
Fíjese donde hay otras personas así no las choca
No juegue en la nieve en zonas privadas o cerradas
Respete y tenga en cuenta a los animales de la zona
Hay varias cámaras web que puede ver para saber cómo está el clima y la nieve:
- The Mount Charleston Weather webcam con orientación hacia el Noreste hacia Hwy 156/Lee Canyon Rd y también contiene información sobre el tránsito hacia las áreas de juegos de nieve
- Las webcams de Lee Canyon resort tienen varios ángulos de las pistas de esquí y el área del lodge
¡Gracias a nuestras agencias socias en Mt. Charleston Winter Alliance que trabajan juntas cada temporada de nieve para que los visitantes de Spring Mountains estén protegidos e informados!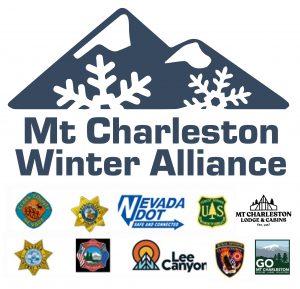 Para comunicados de prensa y medios de comunicación
- Comunicado de prensa de información de invierno 2022-2023
- Información de nieve para niños en edad escolar